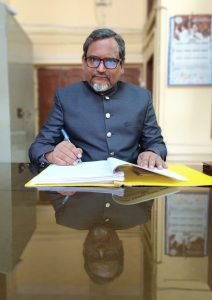 It is my great privilege to welcome you to Dewan Abdul Gani College at Harirampur. It is a matter of great pleasure to serve this institution of higher education as the Teacher-in-Charge.
Since the establishment of the college in 1994, we have come a long way. Over the last three decades, the college has grown both academically and structurally. Having been a witness to the initial days of struggle, it now brings me immense pleasure to see the dream of effecting 'empowerment through education' being realized.
Our college takes pride in having a lively academic community comprising bright, young learners and a band of competent and deeply committed teachers. Additionally, we are supported in our endeavors by an active team of officials. I take this opportunity to appreciate the contribution and the dedication of each member of our staff – both present and former – in making this college what it is today.
I pledge to remain true to the core values of Dewan Abdul Gani College and dedicate my services towards building and sustaining a diverse, inclusive, and intellectually agile community.
Chhahir Ali Miah, M.A., B.Ed.; Associate Professor